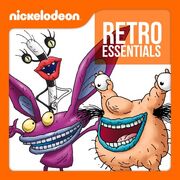 Retro Essentials is a digital DVD released in 2012, it contains four episodes from season one, four episodes from season two.
Sypnosis
Ickis, Oblina, and Krumm serve up the screams in 8 unnerving episodes. Ickis fears his frown isn't frightening enough and thinks plastic surgery is the way to become the monster of his nightmares, then the creepy crew gets trapped in a suitcase bound for Wisconsin. When The Gromble's old teacher visits he seems harmless, but when the trio escort him home they learn why he's the best in the business, and it's The Gromble's turn to be terrified when his mom shows up to class unannounced and lets loose! Next, things get too hot for Ickis when he begins burping fire and is deemed "spontaneously combustible," and when the monsters make use of a mummy on a museum mission they have to get Krumm's eyes back after leaving them behind. Then, Oblina goes for the gold when she has a scare-off with a smarter new student, and when Ickis steals a magic hat, he has nightmares of being turned into the Bunny King. Class is in session with this collection of 8 tales sure to scare up some laughs!
Episodes
7a Old Monster
14b Curse of Katana
20a The Rival
20b Hats Off
Community content is available under
CC-BY-SA
unless otherwise noted.